Prosaris OL1: Smart Ultrasonic Leak Locator
Regular price

Sale price

$4,498.50
A smart ultrasonic sensor that transforms your phone or tablet into a visual ultrasonic leak detector in compressed air, gas and vacuum systems. The OL1 in conjunction with the Prosaris Leak Management App (Google Play) gives you all the features and tools you need to help you develop an in-house leak management program. Calculate Flow, energy loss, financial and environmental impacts in real-time. 
Strategic Leak Management Platform: First Year

Prosaris OL1 Bundle includes user's first year subscription to the Prosaris Strategic Leak Management Platform: Company (Admin), for one user. Supports addition of multiple Basic Users.

Company (Admin) renewal would be required at end of Year 1 to retain all features of the Company (Admin) and Company Platform.
Limited Time Deal: Free Ruggedized Android Tablet

Get a Free Ruggedized Tablet with purchase of OL1.

Includes: 1 X Minno A8 Pro Ruggedized Tablet
Share
Features
Smart Device

OL1 connects with smart phones to capture leak data and stores it along with pictures and location tags for easy tracking and record keeping.

Visual Leak Locator

OL1 using the smartphone's camera can scan a wider industrial area, and directs you to the source of the leak.

Impact Calculator

Prosaris Leak Locator app can calculate flow, energy loss and monetary loss in real-time.

Compact and Light

OL1 weighs less than 400 gms or 1lb and fits into a handy case making it the Ultimate Smart Leak Locator.

No Training Required

No special training or trained professionals are needed to find leaks in your facility with the Prosaris OL1.

Improve Efficiency

Reduce spurious shutdowns caused by low system air-pressure, and high energy bills by employing Prosaris Smart Leak Management tools into regular workflow.

Affordable Leak Management

Prosaris OL1 is a smart ultrasonic tool that offer the benefits of expensive sonic visualizers at the cost of auditory leak detectors.
Explore OL1
Visually Locate Leaks

Impact Calculator

Pictures and Location

Complete Leak Record

Prosaris Leak Management

Prosaris Strategic Leak Management Platform
With the OL1, scan a wider area with your smart phone or tablet's camera to detect and locate your leaks in an instant.
Our smart algorithms accurately calculate flow, energy loss and quantify environmental and financial impacts as you locate leaks in real-time.
Take pictures of your leak source, and tag the GPS location to easily identify the leaks for repair and re-verification.
We understand the difficulties of locating leaks but the hardest part is tagging, record keeping and resolution management. With our intuitive Prosaris Leak Management android application, store complete leak records with, leak data, pictures and location tags for you to review, analyze, re-verify and scan post-repair and generate reports.
Watch our short product teaser showcasing the mighty capabilities of our smart leak management tools.
Prosaris Leak Management System is a cloud based platform that helps you analyze leaks, delegate tasks, manage leak records and generate instant reports that support your eligibility for energy efficiency programs.
Prosaris Smart Leak Management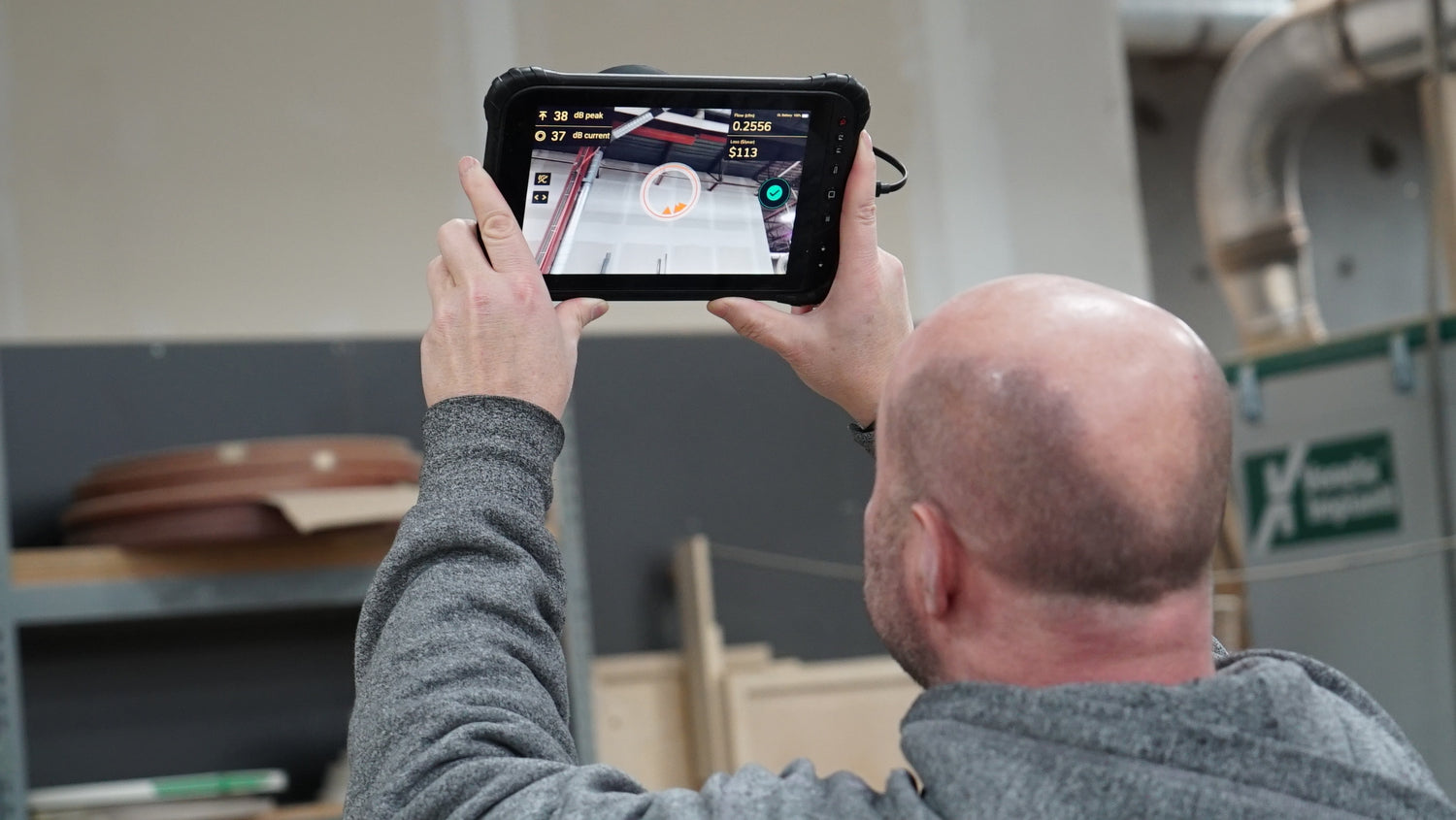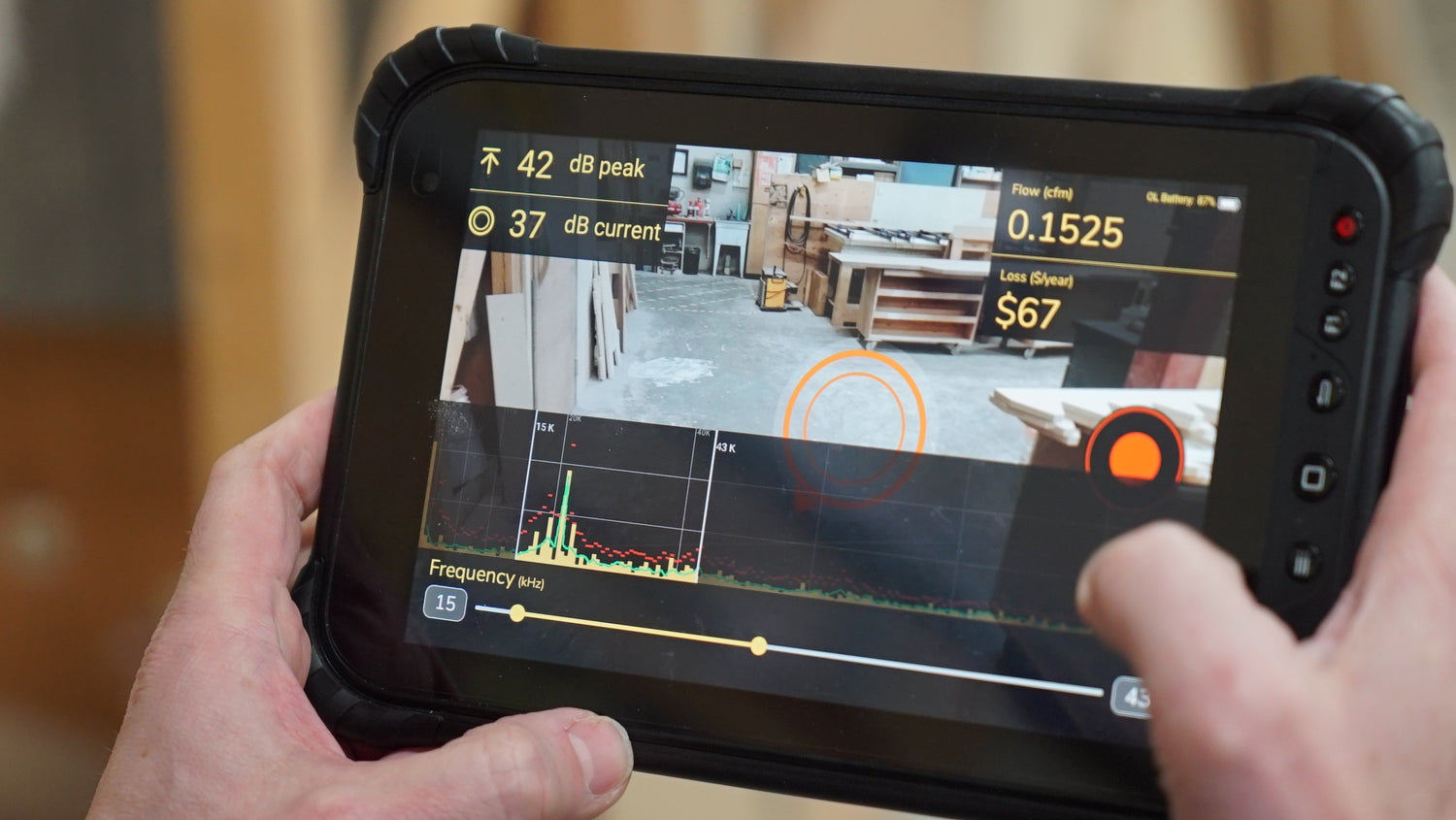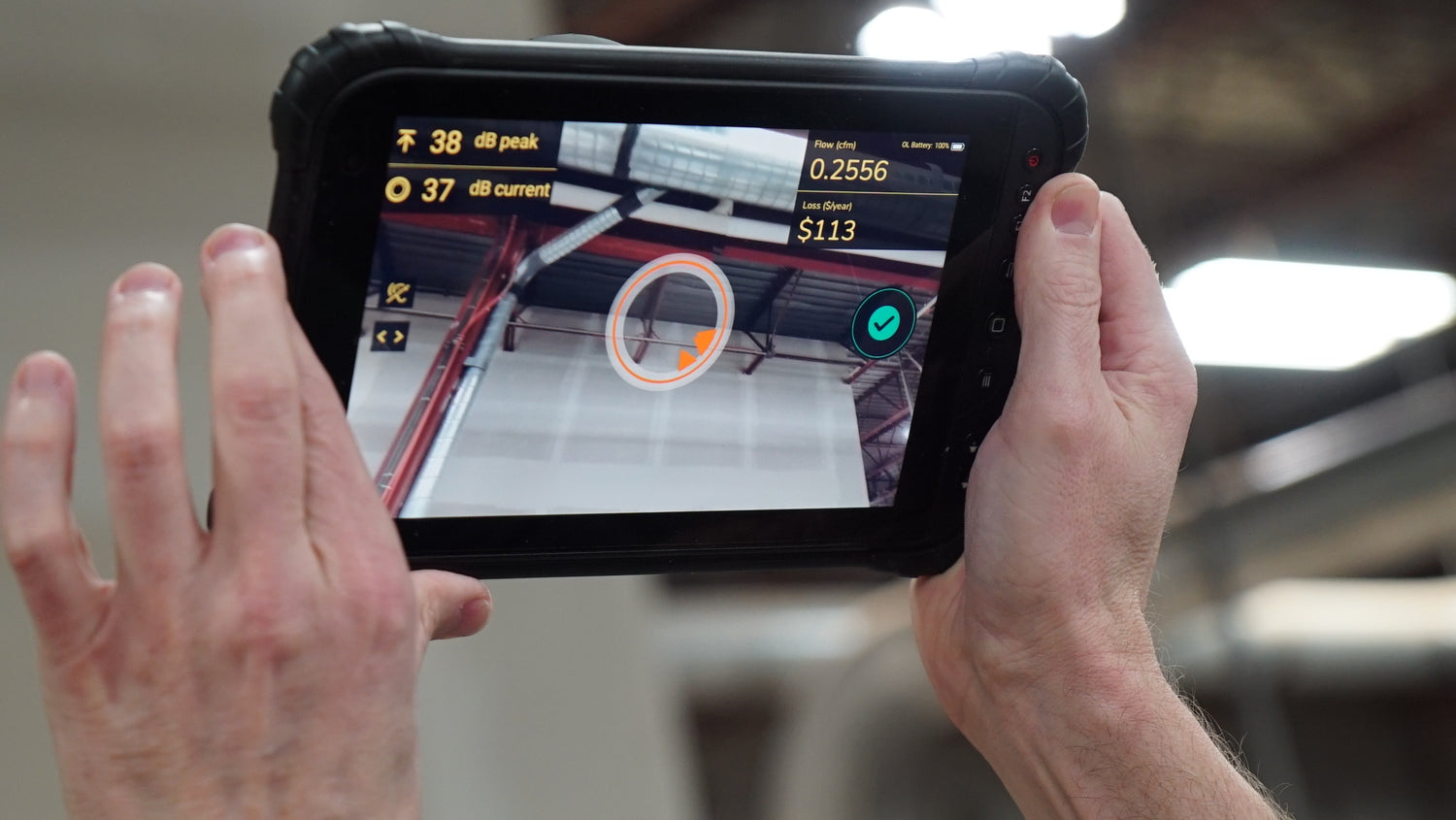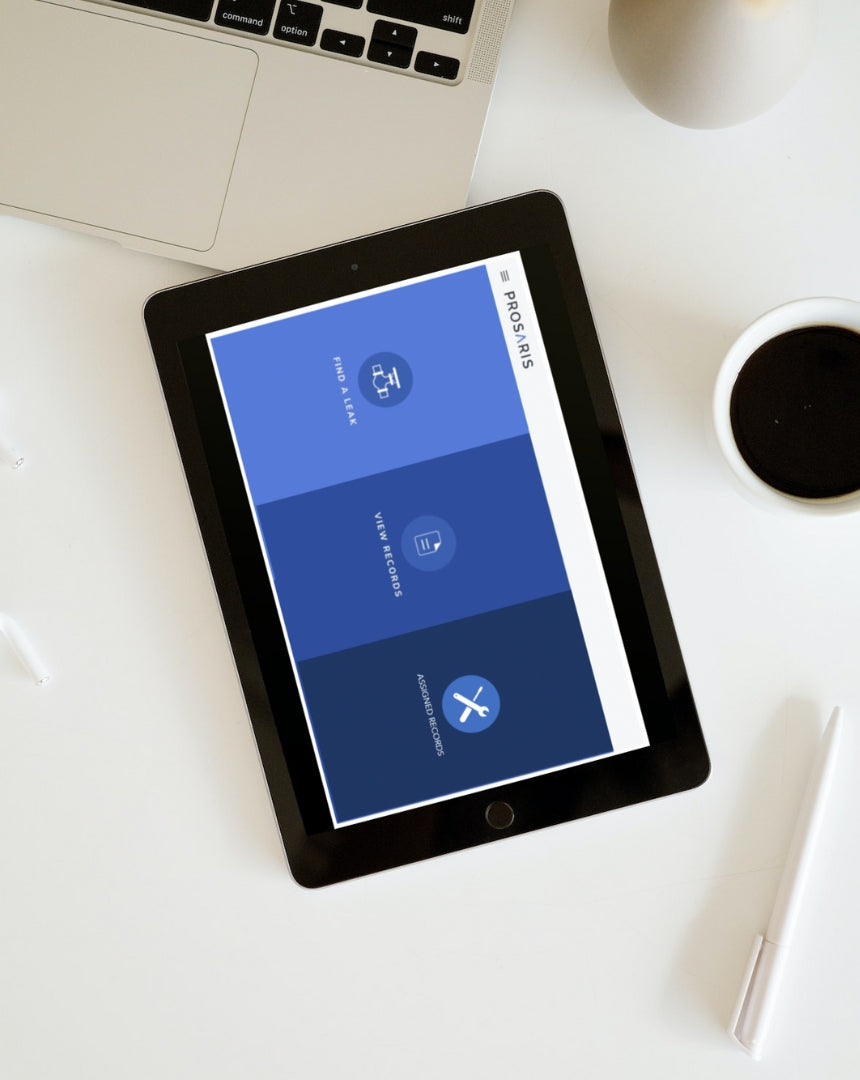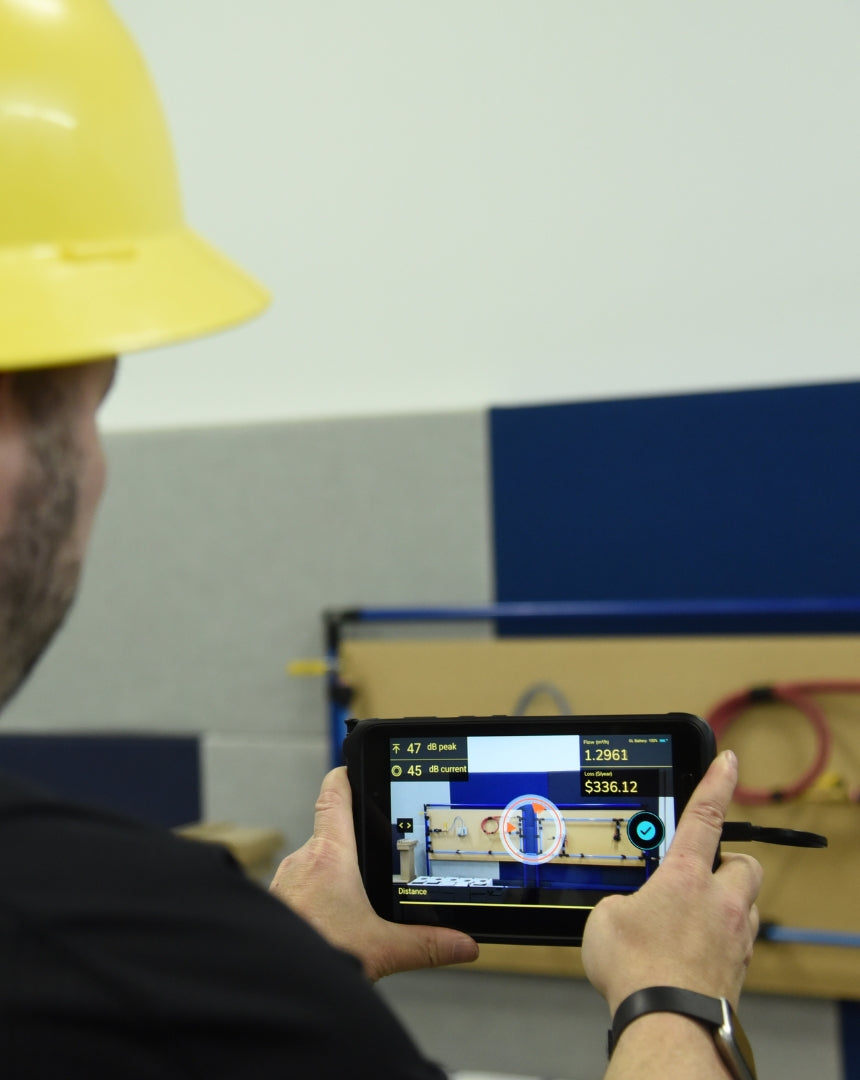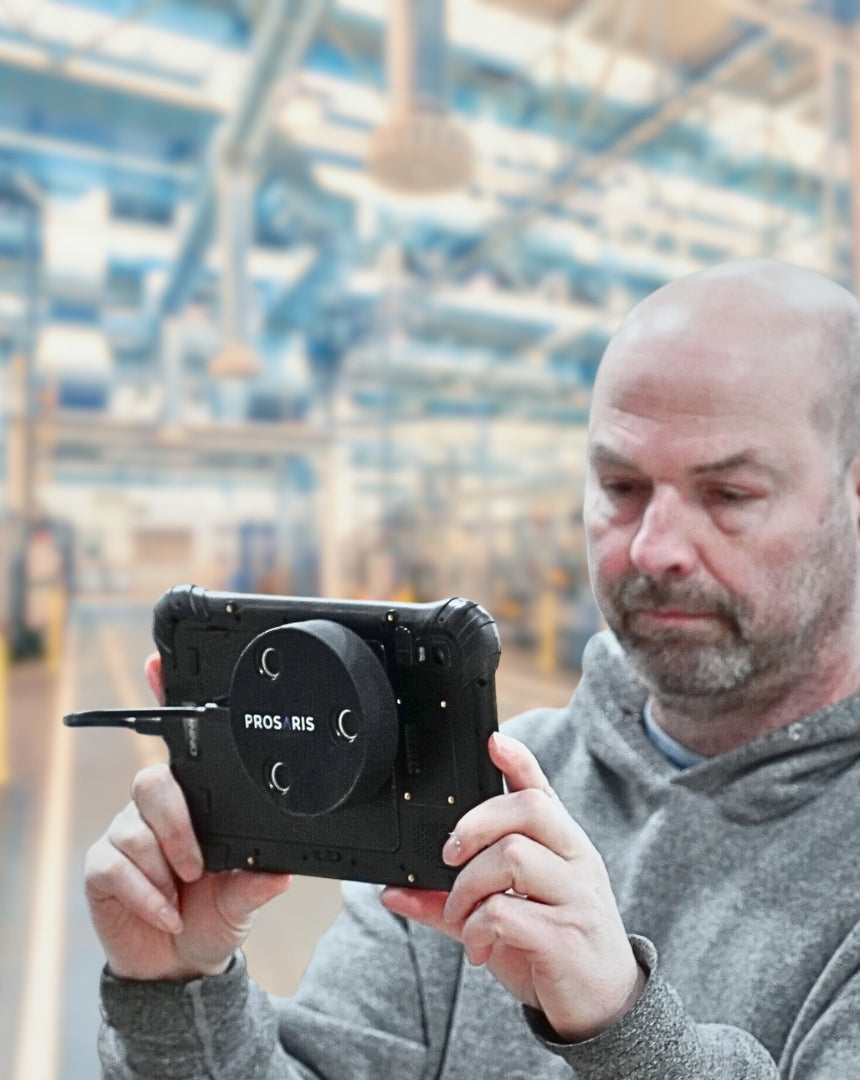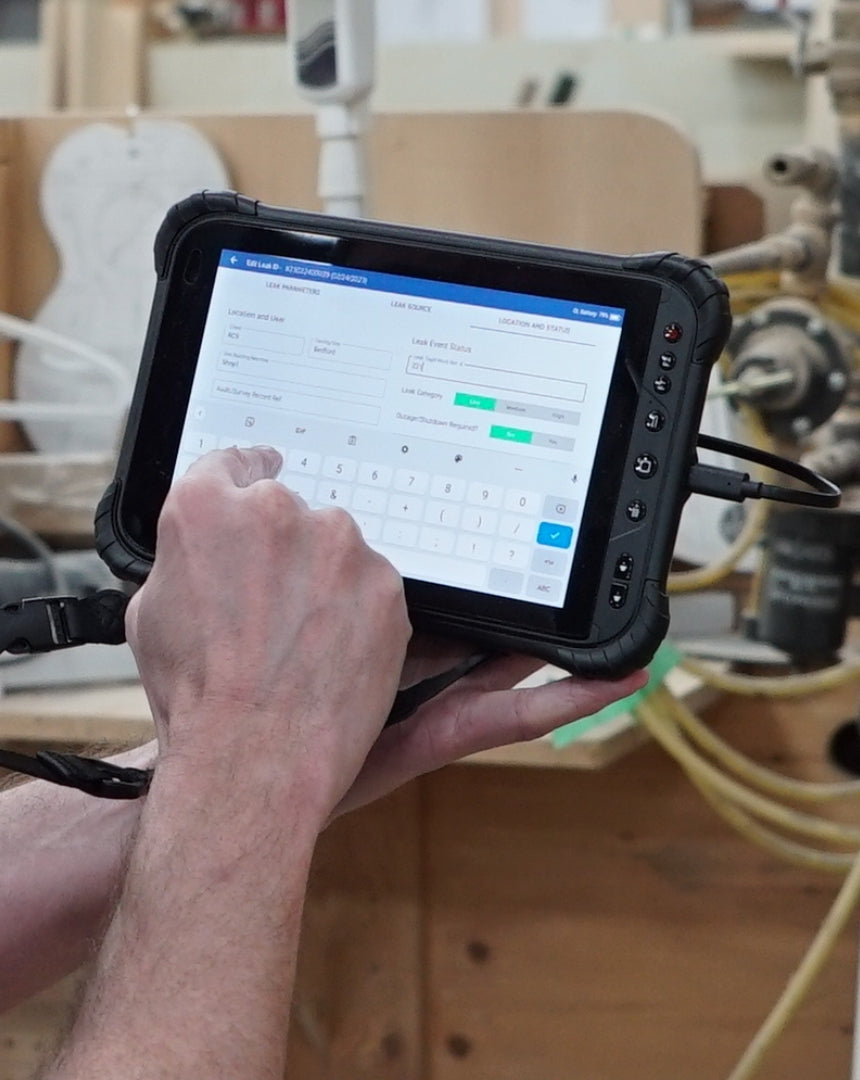 Prosaris Smart Application
OL1 is supported by our Smart Android application. Efficiently locate, quantify, and store complete leak records in an instant just from your smartphone.
View in Play Store
Technical Specifications
Device-General

Dimensions: (H x W x L) 22mm x 95mm x 95mm
Weight: (including battery) 300g (0.7 pounds)
Operating temperature: -20°C to +50°C (-4°F to +122°F)
Storage temperature: -20°C to +50°C (-4°F to +122°F)
Charging temperature: +4°C to +45°C (+39°F to +113°F)
Pollution degree: 2
Operating environment: Wet location
Relative humidity: 10% to 95% non-condensing
Ingress protection: Designed to IP54
Warranty: 1 year
Supported languages: English
Sensors

24 digital MEMS microphones
Frequency Range: 10 kHz to 80 kHz
Operating distance: 0.3m to >50m (1ft to >164ft)
Field of view : 150° ± 5°
Acoustic Measurement

Measurement range: 0 dB to 110 dB (frequency independent)
dB gain: Auto gain adjustment
Frequency selection: User selection for lower and upper bound (FFT visible with display settings)
Sensitivity Auto sensitivity adjustment :
Performance (detection) In low noise industrial environment:
• >0.481 lpm at 310 kPag from 4.25m (>0.017cfm at 45 psig from 14')
• >0.935 lpm at 690 kPag from 9.15m (>0.017cfm at 100 psig from 30')
For higher noise environments:
• >0.481 lpm at 310 kPag from 3.20m (>0.017cfm at 45 psig from 10.5')
• >0.935 lpm at 690 kPag from 5.65m (>0.017cfm at 100 psig from 18.5')
Connectivity

Connection type: Cable-connected (USB-C)
Compatible Medium: Android
Compatible with: Prosaris Leak Management App (available on Google Play)
Battery

Type: Rechargeable Li-Pol
Rating: Rated 3.7Vdc, 1.5Ah, maximum specified charge and discharge temperature 45°C
Life: 8+ hours
Charging time: 6 hours
Charging method: USB-C
Safety

General safety:
UL61010-1, 3rd Ed. 2019-07-19 CAN/CSA No. 61010-1-12, 3rd Ed. 2019-07-19 IEC 61010-1:2010, 3rd Ed. + AMD1: 2016


Electromagnetic Compatibility (EMC) international: IEC 61326-1: Portable Electromagnetic Environment CAN ICES-3(A)/NMB-3(A)


FCC: FCC 47 CFR Part 15, Subpart B – Verification ICES-003 Issue 6 January 2016


Battery: UL 1642 (except impact test and crush test)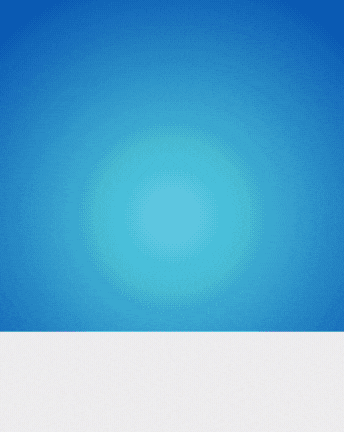 Book a Live Demo
See the OL1 in Action
Interact with our experts and experience how our smart solutions can make your lives simple, workflows more efficient and your wallets - thicker.

Experience live leak locating (Real-time screen sharing), creating complete records, analyzing in cloud-based platform, and generating customer ready audit reports.
Book Demo
Testimonials
"The OL1 is an excellent solution for leak detection and management. It's compact, powerful, and very easy to use.  I began finding leaks immediately, and it's part of our techs tool kit now…"

Rodger Legault, Infrared, Ultrasound, Motion Amplification, Gas Leak Detection, Vibration Analysis Consultant – DigitalIR Technologies Inc
"…the Prosaris enterprise leak lifecycle management software allows our internal decision makers to quantify losses and view leak records, reports, and analytics in real-time, so we can prioritize leak resolutions and task repairs accordingly…"

Scott P. McInnis, Project Manager – McCain (foods)
"The OL1 is a great value compressed air leak management solution, making it accessible to our team and also our customers.  It's light and rugged, and our techs find it extremely easy to use.  The biggest value we see is in the cloud based Prosaris dashboard and reports. This software is excellent for sharing leak analytics, quantifying losses, and managing the repair and resolution process."

Jeff Wright, Compressed Air Specialist – Compressor Energy Services, New Hampshire